Welcome
Welcome to the Winery at the Long Shot Farm, an idyllic place just north of Carlisle, PA. The Winery and tasting room are housed in a remodeled historic barn, surrounded by vineyards, a large pond and an amazing view of Blue Mountain.
We invite you to stop by and sample our wines, made from grapes grown right here in the Cumberland Valley, one of the American Viticulture Areas. We also offer wine slushies and a selection of cheeses, meats, crackers and chips.
Wine Slushy Flavors                                                  
Aug. 25 – Sweet Mountain Mist and Vidal
Sept.  1 – Strawberry and Vidal
Sept. 8  – Concord and Niagara
Sept. 15 – Sweet Mountain Mist and Peach
Non Alcoholic Icy                                                                                                              
Aug. 25 – Cherry
Sept.  1 – Cherry
Sept.  8 – Mango
Sept. 15 – Mango
---
Outside Seating by the Pond
Please Note:
– The grass area will be closed Monday-Wednesday for routine vineyard maintenance – deck seating is still available
– Limited chairs and tables are available – feel free to bring chairs or a picnic blanket
Our Wines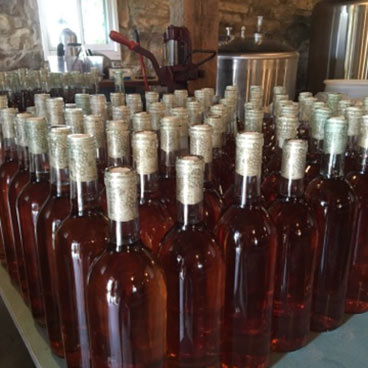 Exquisite Hand-Crafted Pennsylvania Wines
Enjoy a variety of wines, each with its own signature style and taste.
Explore our varieties:
The Winery & Vineyard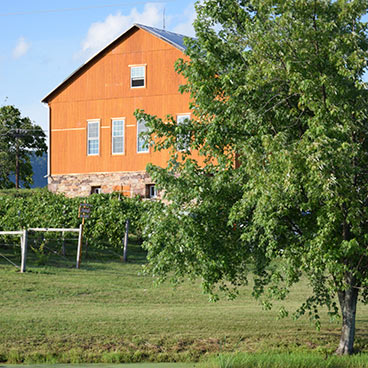 Our Family-Owned Vineyard and Winery in Carlisle, PA
We believe that "Wine is Made in the Vineyard", and that high quality grapes are the first step toward making great wine. Our vineyards are located in the Cumberland Valley viticulture area and currently include the hybrid varieties' Vidal Blanc, Corot Noir, Chambourcin, Traminette and Chardonel and the American varieties Concord and Niagara. We also grow much of the fruit that is utilized in our line of country wines, including blackberries, elderberries, and blueberries. Other fruit is sourced locally.
Check out our 2019 Harvest Season Video