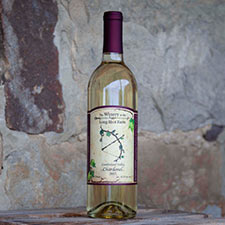 Chardonel
Dry varietal
Coming soon!
Like the debutante at her own ball exhibiting her virtue, this is a crisp off-dry wine, showcasing a pure white grape profile with a lemon finish.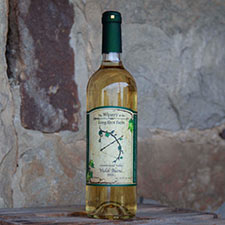 Vidal Blanc
Dry varietal
With a clean crisp acidity, slightly chilled this wine puts forth a peachy semi-sweet palate, with hints of melon.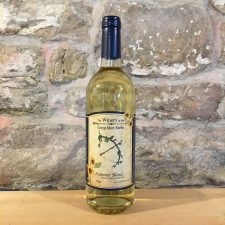 Summer Blend
Sweet blend of Vidal Blanc and Apple wines
Summer blend incorporates our Vidal Blanc grapes with locally grown apples. The result is our favorite qualities of summer, a sweet wine giving a peachy-apricot start and finishes on clean apple. When served slightly chilled, it is a good way to end a hot summer day.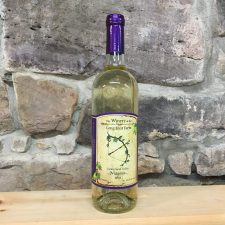 Niagara
Sweet Varietal
An extremely fruit-fragrant wine, Niagara is a luscious waterfall, overwhelmingly powerful.  So pack your barrel tight, as when you plunge ahead, you will find the wine exhibits a strong floral quality, of elderflower and perhaps jasmine, with a moderately acidic lemon citrus finish to balance out the palate.