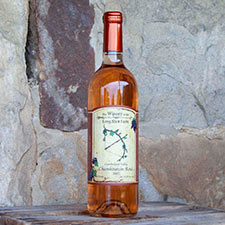 Chambourcin Rosé
Semi-sweet varietal
We have removed the cherry to expose a floral bouquet and a strawberry palate. When chilled, enjoy the mineral overtones with a hint of sweet.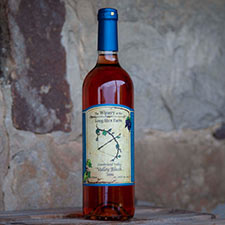 Valley Blush
Off-dry blend
This blend of Chambourcin Rosé and Vidal acts as the cousin to the Rosé, the one you want to spend the reunion with. Drier, lively, a bit of a lemony acidic bite, but with the strawberry flavors still coming through.
Desert Rose
Dry Varietal
As the crisp, brisk breeze of the arid Rocky Mountain top suggests a barren peak, the cherry and strawberry fruit flavors and lemony finish in Desert Rose will leave you just as astonished as finding that the dry frontier is a beautiful, bountiful elk country out west. If you know to hunt for it.  This dry wine with its rosy color pairs well with sharp cheese and smoked pork.
Pink Quiver
Sweet Varietal
Like a filled quiver ready for the hunt, each arrow expertly crafted for the task at hand, this wine packs berry into every glass: overflowing with bold ripe dark cherries, graced by hints of strawberry and then sweet fresh mid-summer fruit, all followed by a clean acidity. Refreshing chilled.