Some problems are as old as Farming. Man versus Rock. Man versus Stump. But since the combustion engine: Man versus Tractor. Here we chronicle the triumphs and failures of Mankind and the Tractors at the Long Shot Farm.
The High Lift
Our story begins on a beautiful Spring Saturday morning.  There is mulch to be spread and grass to mow.  The Farmer saunters out to the tractor shed after downing a fresh pot of coffee and a pan of scrapple, eager to get to the days work.  He reaches the Red Tractor, and a look of despair and consternation crosses his face.  He realizes he can't put mulch in the mulch spreader.  There is no high lift.
Mulching in the vineyard is a two tractor endeavor.  One tractor has the mulch spreader in tow while the other tractor waits near the mountainous mulch pile with the high lift attached.  This tractor fills its bucket with mulch and dumps it into the spreader. The Farmer,  determination in his eyes, sits down at the kitchen table at the Long Shot Farm homestead.  Here he consults with the Master of All Things But One.
"Jeff", he says, "we need a high lift."
A tall, burley man, with a whiskery face and kind brown eyes grumbles, "Let me see what I can find."
Days pass.  Fixing an old tractor is never a one purchase affair and the purchases made are never completely accurate.  But what can be found, will be made to work, through the thinking and brawn of our dear Aerospace Engineer and resident Apprentice Master Welder.
A used high lift made for the former model of the Red Tractor was found.  The high lift was in good condition but the brackets were made for a smaller tractor.  The brackets also had to come forward so the high lift could clear the front end of the tractor and the brackets were too high.
The Engineer puzzled over the situation and in a eureka moment, devised a plan to modify the high lift.  He discovered that only a few diagonal slices to the bracket of the high lift would simultaneously make the bracket bigger, bring the front of the high lift more forward and allow the entire lift to be lowered.  He communicated this plan the Welder.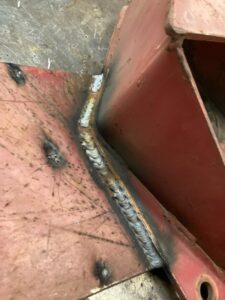 With steady hands like a surgeon, the Welder sliced the metal, laid out the new angles with precision, and gently braided the metal back together.  The final task was to attach the new device to the the Red Tractor.  The fit was beautiful.
As the Red Tractor puttered away on its mission to mulch, something was amiss: "But," said the Welder, as he looked on the Tractor moving off on its way, "the hydraulics are leaking…"
So goes the eternal battle of Man versus Tractor. Until next time…
Posted by Anja Weyant