It's time to protect the vineyard from birds as summer winds down and the grapes begin to ripen.  A flock of birds landing in an unprotected vineyard at the wrong time can be devastating, with tons of grapes being eaten.   We prevent this by encasing each row of grapes in a large net.  The rolls of netting are around half a mile long and it can quickly become a tangled mess.
Oddly enough, while it is possible to buy the netting on the East coast from orchard supply places, no one sells a machine or device to make applying the netting easier.  You can buy such devices in California, but the shipping is steep.  So this year Jeff, Zach, and Lars designed and welded the Netting Application Dispersal System, what we have been affectionately calling NADS (Netter Getter was already taken!).
The netting boom is built from two pipes, one which fits inside the other, so that the arm can swing from side to side.   Lars welded the boom and attached 2 cork screw shapes to capture the netting and guide it out to the row.  The entire apparatus tilts forward and backward 30 degrees, to aid in applying the netting but also picking it back up at the end of the season.  Pins in the boom hold its position steady while the tractor drives up and down the row.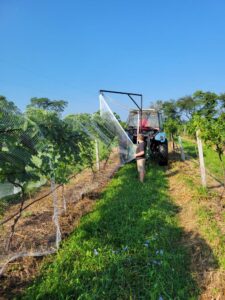 The netting boom exceeded everyones expectations.  It rides on the back of the tractor with the large rolls of netting underneath.  The netting flows gently out the arm and is easily spread over the rows.  Applying the bird netting has never been easier thanks to NADS!