Useful things are rarely cast away at the Long Shot Farm. The sheds are full of tidy bits of irrigation hose, coffee cans of drywall screws, chains and tools for a variety of purposes, and piles of wood that may someday be necessary.  Items are often repurposed and recycled in creative if albeit janky ways.  Old cars can be seen ferrying farmer to vineyard to tractor at different locations.
Recently our beloved suburban, circa 1998, lost its rear bumper. The rear bumper was loose and upon removal, caught on fire. This vehicle, historically shuttling the Weyant children to various sporting events and college in the early 2000s is fondly referred to as Sully.  With Sully in need of repair, Zach and Lars came to the rescue.
Zach visited the hedgerow, the place where farm implements and useful "junk" are kept. He dug out an old bumper belonging to a truck with a dump bed.  That truck was recently disassembled to create a dump trailer that we use for mulching. Unfortunately the bumper was too large.  Lars cleverly sliced the old bumper to fit and welded it back together.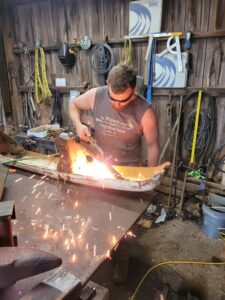 He then attached it to the truck after a little welding yoga. We're happy to report that Sully is back in business, shuttling Weyants to and fro, and occasionally making a trip to Sheetz.