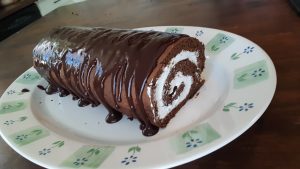 So Duff and I have been watching the Great British Bake Off.  For a while now.  I always look forward to the cake episodes though Duff is not impressed.  He would much rather make bread.  Anyway, I enjoy the episodes about the Swiss Rolls and the fancy Christmas Roulades. I decided that it was time to try my hand at them.  The judges are always fussing over the "perfect" swirl and make it seem like this incredibly difficult task.  They also like to stress that the sponge cake is fatless. Well, I prefer a much more forgiving cake with the added moisture from butter and I think the key to a nice swirl is not over baking your cake.
I settled on a chocolate Swiss roll with a whipped cream filling.  I long ago decided that chocolate and sour cream were a match made in heaven so I added a few spoonfuls of sour cream to the filling.  I then topped the roll with a chocolate ganache.  Straight forward and classic for my first attempt.  I gave this recipe below a go and we were all very happy!
Chocolate Sponge
4 large eggs, separated
1/3 c granulated sugar
1/3 c brown sugar
1/4 C melted butter
1 tablespoon vanilla
1/2 C all-purpose flour
1/4 C cocoa powder
1 teaspoon baking powder
1/2 teaspoon salt
Vanilla Whipped Cream filling
1 cup heavy cream
3 Tablespoons sugar
1 tsp vanilla
3 Tablespoons sour cream
Ganache Topping
1/2 cup chocolate chips
1/3 cup cream
Preheat oven to 350 degrees F.  Line 12 X 17 inch jelly roll pan with parchment paper and butter paper.  I butter the underside too so the paper sticks to the pan.
Beat egg whites and sugar together on high for 2 to 3 minutes until stiff peaks form.  Set aside.  Blend egg yolks, brown sugar and vanilla for 2 minutes or so until pale. Mix in melted butter
Sift dry ingredients (flour, cocoa powder, baking powder, salt) and add to mixture.
Fold in egg whites.  I use a little at first to help get things started and then fold in larger amounts.
Spread batter into the pan in a thin layer.  Bake 10 minutes or so (mine actually took 9).  The top will gently spring back when touched.
When the cake is finished, allow to cool for a few minutes and then invert it onto a clean dish towel.  I used a dishtowel and a piece of parchment paper on top. Roll from the narrow end and allow the cake to completely cool.
Several hours later, make the whipped cream by beating the cream on high for a few minutes with the sugar and vanilla.  Gently fold in sour cream.
Unroll the cake and spread the filling leaving a 1/2 inch edge. Re-roll the cake sans paper towel.
Make the ganache and pour over top! I usually heat up the cream until barely simmering and then pour over the chocolate.  After a minute or so, stir it up until the completely combined.
Refrigerate for 30 min before slicing in.