Mulled wine is one of our favo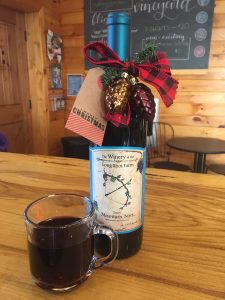 rites during the winter holidays.  There are lots of different ways to make this hot winter drink.  All recipes start off with wine to which mulling spices  are added, and the mixture is slowly heated until the flavors blend.  Some recipes use a mixture of wine and cider (or other juice), while others "spike" their wine with brandy or rum.  Often fruits, such as orange slices or cranberries, are added and some people like to sweeten the mixture a bit.
One of our favorite recipes is the less alcoholic version of wine and juice:
1 bottle of red wine (such as Sweet Mountain Mist)
3 cups of apple cider or apple juice  (or 2 cups of apple juice and 1 cup of cranapple juice)
2 cloves
1 cinnamon stick (about 3 inches)
Alternatively, you could substitute two bottles of our Winter Blend wine, which is a blend of Apple wine and Chambourcin wine, and omit the apple cider or juice.
Heat all ingredients in a crock pot – but never let it boil. Start off on the high heat setting until the liquid becomes hot, then turn it to the low or warm setting and let is simmer for about 2 hours.  The cinnamon stick should flatten out as the flavors blend together.  Serve hot and enjoy!
Posted by The Long Shot Farm