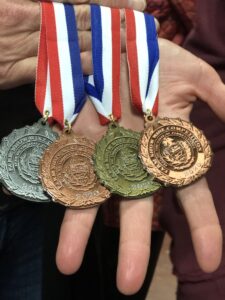 This year we entered our wine in the Pennsylvania Farm Show Wine Competition. We are excited to report that all 4 of the wines we submitted received a medal!
The competition is open to any Pennsylvania winery.  Wines must be made with at least 75% of Pennsylvania fruit and have been produced in a quantity of at least 100 gallons.  So we must have at least 42 cases of the wine.  The Winery at the Long Shot Farm had only 4 wines that met these requirements.
An independent panel of experts tastes and scores the wine.  If the score meets certain thresholds then that wine receives a medal. As a result you can have multiple bronze, silver, and gold medal winners in each category.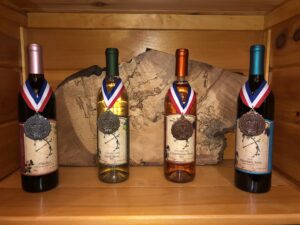 This year we received a gold medal for our 2017 Vidal Blanc, a silver medal for 2018 Fletched, and bronze medals for 2018 Chambourcin Rosé and 2018 Sweet Mountain Mist.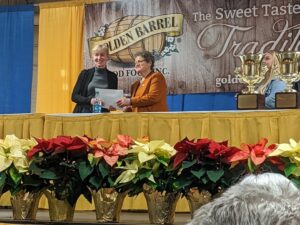 Tina, Sam, and I attended the Pennsylvania Farm Show Wine Competition awards ceremony. Awards are presented to each winery one at a time.  It was wonderful to see all of Tina and Jeff's hard work recognized by such an important PA wine competition.
We are looking forward to submitting more wines next year to see how they measure up.
Posted by Anja Weyant