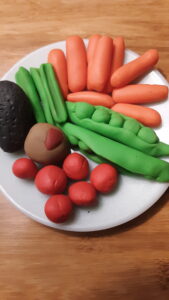 This year Jeff had the BRILLIANT idea of ordering polymer clay to occupy his many grandchildren (and daughters and wife as well).  Our goal was to create food for the 18in dolls that were the stars of Christmas.  Tina was inspired by someone who created a tiny deviled egg on Pinterest.  The clay arrived in many colors and with a variety of basic tools.  The experience ended up being fun for everyone.   The food was not too complicated because it was made with simple shapes and the scale is 1:3. We went through several pounds of clay and the dolls were thrilled.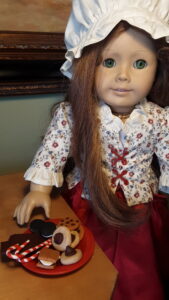 Felicity could not believe her luck! At the Merriman General Store she found modern treats like Oreos, candy canes, and S'mores. Just in time for the holidays too! Possibly they were not sold out because other patrons, in 1774, did not know the true joy to be found in an Oreo.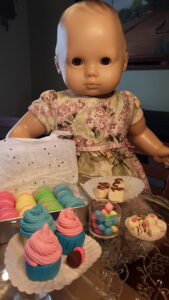 Our Bitty baby is quite the entrepreneur.  She decided – at quite a young age – to open her own bakery, full of macaroons of every color, candies, white chocolate truffles, petit fours, and cupcakes.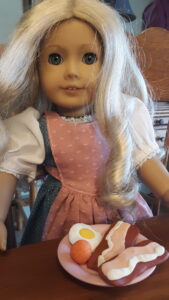 Caroline enjoyed a hearty breakfast of monstrous bacon, a small egg, and an even smaller orange (kumquat?) before joining her father out on the skiff.  To think such unique proportions of food were to be found in 1812.
Tina made all the dresses in the above pictures as well, in case you were wondering!
Posted by Anja Weyant