We hosted a pre-opening event for our neighbors, friends and supporters to thank them for all the encouragement and help during the last few years to get our winery going.  We had our PLCB inspection last week and our winery license is active as of February 28 🙂
The tasting room was spick and span and we had light refreshments from the County Butcher Shop to pair with the wine.
It was also an opportunity to work out some of the kinks.  No one really knew what to expect in the tasting room or even how to pour wine.  Our self-taught servers used wine glasses filled with the appropriate amount of water to use as guidance.  It was also an opportunity to learn how to talk about the wine.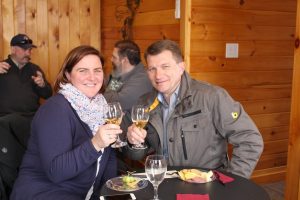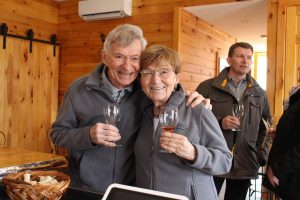 One of the many things we had to learn and prepare for was how to use Square to accept payments. A big thanks goes out to our first official customers and helping us with our learning process!  Knud (Tina's brother) and his wife Shannon enjoyed the Chardonel wine and Tina's parent's could not go away without buying their favorite wine, Chambourcin.
The open house was a success.  We even had a random customer stop in.  They were in the area, from State College, and saw all of the cars in the parking lot and the sign.  They bought 2 bottles to go after tasting a few.  Our first uninvited customers!
We cannot be more grateful for the support and encouragement from family, friends and neighbors.
Posted by Anja Weyant, Tina Weyant, and Samantha Shaffer Weyant