Pruning is underway in the vineyards.  The purpose of pruning is to cut away portions of the vine to promote healthy fruit, stop overcropping, and prevent the vineyard from becoming a jungle.  The Niagara patch is finished and we are currently pruning Concords at the Long Shot Farm.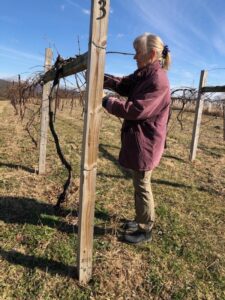 Concord grapes are a North American variety which are used for jams, juice, table grapes, and wine! They are featured in the Concord, Pink Quiver, and Trophy Rack wines and the Concord Slushy.
All of the grape wines at the Long Shot farm are Estate Bottled.  This means that the grapes are farmed, fermented, bottled, and aged on site.  This allows us to have control over every aspect of the wine, from the vineyard to the bottle.